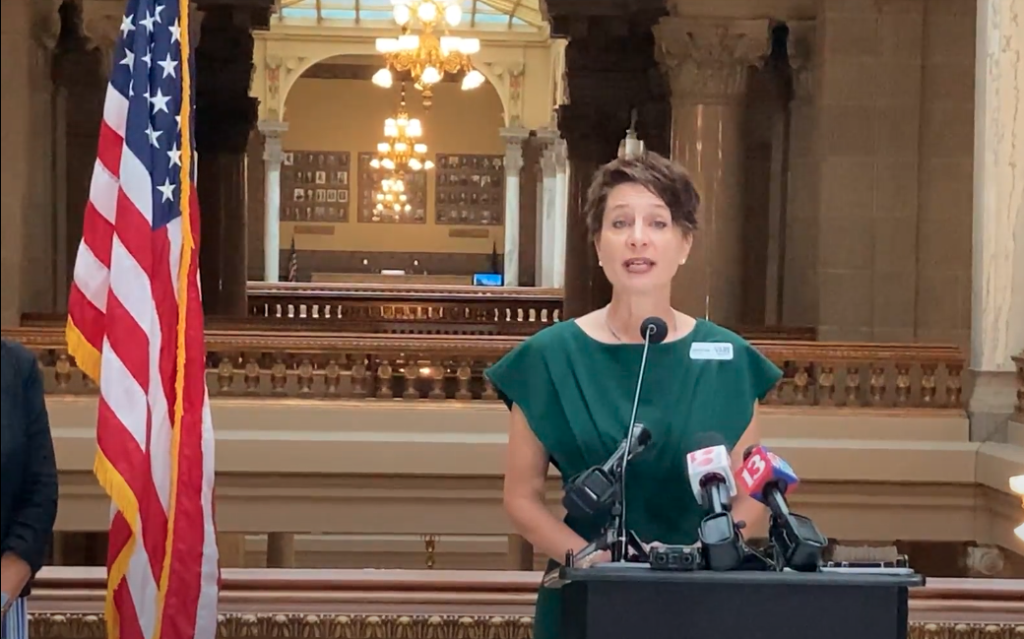 The Indiana Democratic Party held a statewide press conference on August 9, 2022 – four days after the Statehouse Supermajority and Governor Holcomb enacted an abortion ban and stole away women's reproductive rights. The press conference featured five Democratic women candidates.
Jocelyn Vare (Candidate for Indiana Senate – District 31)
Victoria Garcia Wilburn (Candidate for Indiana House – District 32)
Destiny Wells (Candidate for Secretary of State)
ZeNai Brooks (Candidate for State Auditor)
Jessica McClellan (Candidate for State Treasurer)
It is important to note that the Indiana Democratic Party featured two Hamilton County Democratic candidates at this statewide press conference. Victoria Garcia Wilburn and I are running Statehouse races to represent Hamilton County and are considered top Democratic candidates in Indiana. In the entire state, Hamilton County is where several Democratic candidates have a strong potential for election victories. The 2022 midterm election could prove for the first time that Hamilton County is no longer dominated by the Republican Party.
My remarks about the new abortion ban and why the November 8th election is so important:
Hello, my name is Jocelyn Vare. I am an at-large member of the City Council in Fishers.
I am the first Democrat elected by the city of Fishers a few years ago.
Now I am running for State Senate. District 31 is all of Fishers, Geist and parts of NE Indianapolis and Noblesville.
I know my district and I know our community, I know Hoosiers and I know Hoosier women.
I serve them. I listen to them. Every voice. Every vote.
In this house, a Supermajority rules Indiana. Therefore, they are solely responsible for all bad legislation that is concocted here. Hoosiers, we are here today because we are dismayed by the Supermajority's new abortion ban that controls and humiliates the women in our state.
When the Supreme Court bestowed this house with a new authority over women, the Supermajority had a choice to make. They could have been disciplined, respectful of the power they'd been gifted, taken time to consider, listen and learn.

No. The Supermajority irresponsibly chose to rush. They selfishly chose to work behind closed doors. They chose to ignore the recommendations and testimony of women, healthcare professionals, experts and the Democratic members. The Supermajority made their choice. Their choice was a near-total ban on abortions in Indiana.
Now Hoosiers have a choice. Election Day is less than 3 months away.
Here's the thing about Supermajorities, they are temporary. Every voice. Every vote.
Hoosiers, let me tell you about your choices now. You can give up and check out. You can leave the state. You can ignore your chance to use your voice. But what I have heard from you in the past 3 days, that's not what you are going to do. You are going to stay and fight and vote on November 8th. Every voice. Every vote.
Let me tell you about choices on Election Day. You can authorize the Supermajority to continue. Or you can choose Democrats. The Democrats are the only ones who can challenge the Supermajority and re-establish balance in our state. The Democrats, like my friends with me today, are the ones who listen to Hoosiers and fight for them. Democrats want to serve YOU, not themselves. You don't have to be a Democrat to vote for a Democrat. You just need to believe that Indiana is better when lawmakers chose to listen to the voice of voters. Without more Democrats in the Statehouse, the Supermajority will continue to choose to ignore you.
My fellow Hoosiers, my fellow Hoosier women, I will listen to you and serve you in the people's house. As a State Senator, I will work to repeal this harmful abortion ban. I will fight to reclaim women's reproductive rights in Indiana. Our state's current abortion law allows abortion up to 20 weeks. I will fight to return this law to Hoosier women. I trust and support women to make choices for themselves. Nothing less will do.
My name is Jocelyn Vare. I'm running to represent every voice. I am running to earn every vote.
---
Watch the video from today's press conference: