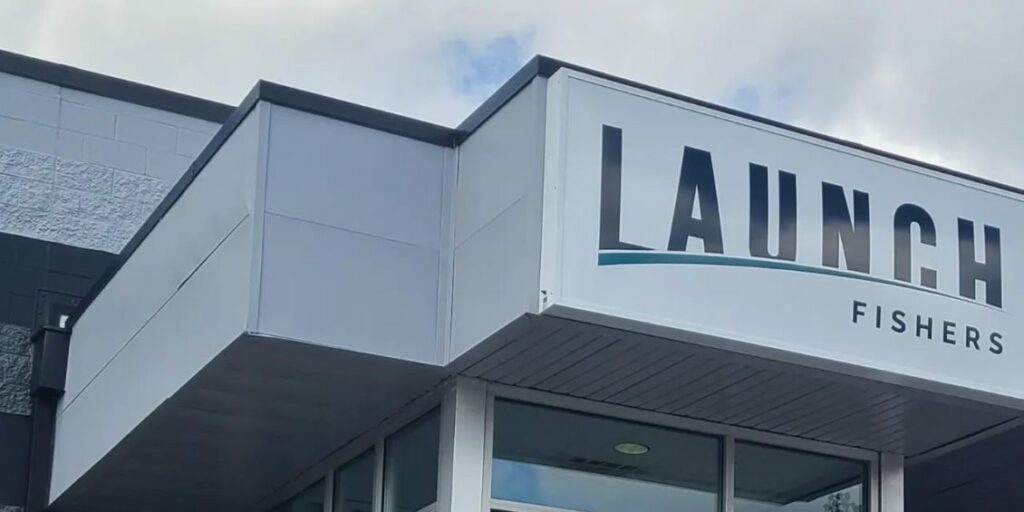 The August Fishers City Council Meeting will be held on Monday, August 15, 2022. I warmly encourage you to participate.
IMPORTANT LOCATION CHANGE: All City Council meetings will now be held at Launch Fishers, 12175 Visionary Way. Launch Fishers is located in the tech park, north of Super Target.
WORK SESSION
A Work Session will be held at 6:40pm, prior to the 7pm City Council Meeting. No action is taken at a Work Session. It is a gathering of the city council members to gather information about a specific topic. Work Sessions are always open to the public to observe. It will be held in City Hall.
The topic for this work session is Retail Food Inspection Grading System.
How to Observe and Participate in the City Council Meeting at City Hall
-The meeting will be held in-person and will be open to in-person attendees.
-A video of the meeting will be broadcast live at http://tinyurl.com/CityOfFishers starting at 7pm on Monday so you can watch from home. This is a way to observe the meeting only.
-In-person attendees are welcomed to address the City Council during any Public Hearings during the meeting – and during Community Comment, which is held at the end of every meeting.
-Fishers residents are also welcomed to submit public comments electronically prior to the meeting. In order to submit a comment, you need to designate the date of the meeting that you want to comment on. Look at the public meeting calendar. Then, complete the online Public Comment Form. Select "City Council" and that will open a comment box for you to type in. Submit your comments by NOON on Monday, the day of the meeting. All comments submitted before the meeting will be presented to City Council members. These comments are not read aloud but become part of the official meeting minutes.
-Community Comment at the end of each City Council meeting is always open for your comment on any Fishers topic. This is an "open mic" opportunity for 10 Fishers residents to address the City Council for up to three minutes each. The council members are not required to resolve or respond to your comments at that moment. Usually, pathways are identified for follow-up and additional dialogue.
-Meeting agendas and past meeting minutes can be found here, under City Council tab.
-Past meeting videos are supposed to be posted within 48 hours of the meeting. You can find the videos in the City of Fishers YouTube channel.
CITY COUNCIL MEETING
The City Council Meeting agendas are available here, under the City Council header. Each agenda has items on it that appear in blue. These are links to open the supporting documents.
Here's a rundown of this meeting's agenda items and my interpretation of them.
5. Department Reports. The monthly Fishers Health Department report is made available to residents about our city's vaccine status, COVID community risk status, and other important public health info.
The City's current COVID community level is Medium. There are no confirmed cases on Monkeypox in Fishers but it is likely to occur soon. Monkeypox was declared a public health emergency by the CDC and WHO recently.
The new vaccination clinic is located at 8937 Technology Drive (behind Target). To schedule your vaccine, visit https://www.coronavirus.in.gov/vaccine/ and click on the red bar. The CDC recently approved vaccines for 6-month to 5-year-old children and FHD is preparing for an anticipated higher demand for these vaccines soon. *Please get vaccinated and boosted to keep Fishers healthy.
The FHD 2021 annual report is now available.
6. Council Committee Reports.
Finance Committee Report. The Finance Committee is charged with advising the City Council on matters concerning the general financial operations of the City. The City Council is responsible for fiscal oversight and final approval of the municipal budget. Typically, the Finance Committee meeting is reflected in action items for the City Council that are reflected in the "Budget/Financial" part of the meeting agenda.
NonProfit Committee Report. The NonProfit Committee is charged with advising the City Council on the award of $120,000 in grants to local non-profit organizations. Approval of the 2022 grant awards is agenda item #9.
7. Consent Agenda.
There are two items on the Consent Agenda.
Item a. is approval of last month's City Council meeting minutes.
Item b. transfers funds. These actions transfer funds within the city budget, which is needed periodically. The transfers do not adjust the bottom line at all. This is a transfer of dollars from one budget category to another to avoid a negative balance in a category.
The Consent Agenda is a grouping of routine reports that should be approved in one swift action, instead of approving each one separately. I believe that all items included on the Consent Agenda should be approved as presented and approved unanimously. If not, the item that requires a revision, abstention, or other action needs to be removed from the Consent Agenda and considered as a separate voting item.
REGULAR AGENDA
Economic Development
8. Project Agreement for REV. This is the discussion about the proposed partnership between the City and the Developer. The proposed project is located at five-story, mixed-use building at 8603 E. 116th Street, located at the intersection of Municipal Drive and 116th Street. This is where Burn Boot Camp, People Factor, North Star Vitamins, Source Yoga and Thai Sushi are currently located. The development will feature 36 for sale condominiums, a parking garage, and 23,000 square feet of commercial and office space. The luxury condos range from $600,000 to $1,000,000.
Here are the city's press release and the local news articles about the proposal.
Incentives that the City Intends to Provide Developer to Execute the Project
The city is going to take out a $3.25 million loan (bond) to help finance the project. The bond will be paid back with the proceeds from the Tax Increment Finance arrangement. Waiver of sewer impact fees (not inspection fees)
Public Infrastructure Grant: Up to $500,000 for Developer to construct improvements along 116th Street
Trail Improvement Area: annual lease of public space within REV property lines that will be leased by the City to allow public access.
Tax Increment Financing is a commonly used tactic to pay for infrastructure improvements designed to spur economic development in the area. I believe that TIF has to be used very carefully. I always apply the "but for" test. This is evidence that the development would be impossible "but for" the investment of TIF. When TIF is invested in a development, the incremental taxes that the developer would pay once the project is completed are diverted to pay off the bond that paid for the infrastructure improvements.
More about TIF:
What Is a TIF short video – https://www.trilandproperties.com/what-is-a-tif-and-how-does-a-tif-work/

The Use of Tax Increment Finance – https://pcrd.purdue.edu/ruralindianastats/downloads/The-Use-of-Tax-Increment-Finance.pdf

Budget/Financial
9. 2022 Non-Profit Grant Awards. In January, the City Council awarded the following:
Fishers Youth Assistance $40,000
Youth Mentoring Initiative $40,000
Conner Prairie $50,000 to
and allocated $120,000 for additional grants, for a total of $250,000. These funds were from American Rescue Plan.
Non-profits who serve Fishers applied for the grants. The City Council will now vote to approve the following recommended awards.
Fishers Youth Assistance Program $5,000
Youth Mentoring Initiative $15,000
Conner Prairie $30,000
Outside the Box $26,500
Cherish Child Advocacy Center $20,000
Hamilton Southeastern Education Foundation $10,000
Shepherds Center of Hamilton County $10,000
Indiana Center for Prevention of Youth Abuse and Suicide $3,000
Heart and Soul Free Clinic $500
Planning & Zoning
Both of these Voluntary Annexations will welcome public comments in a Public Hearing format. See above notes on how a Public Hearing is conducted. A voluntary annexation is when a property owner wants to incorporate into the City of Fishers and receive city benefits, i.e., access to city utilities and city services like road maintenance and snow plowing. The annexed property will start paying city property tax to cover these benefits. Sometimes, annexations are a first step for a property being sold for development.
Annexation Procedures can be found here.
10-11. Collins property. 16.9 acres at 12301 Florida Rd.
12-13. Farr property. 0.8 acres at 13562 E 116th St.
These two are Final Reading, which means that the final vote on the matter will be held.
14. Home Court Estates. 5.7 acres at 11186 E 131st St.
First Reading, this is the first consideration of the matter but not final vote.
This agenda item will welcome public comments in a Public Hearing format.
A PUBLIC HEARING means that any resident is invited to comment on this topic. This is the only opportunity to make a comment and address the City Council on this specific matter. Fishers residents are welcomed to submit comments for the public hearing on this matter electronically prior to the meeting. All comments received by noon on Monday on the day of the meeting should be presented during this part of the meeting and will be part of the meeting's official minutes. The Public Comment Form is live on the website right now.
If you do attend the City Council meeting in-person, you may comment on this matter during this part of the meeting. The City Council President will open the public hearing by asking if anyone would like to speak. If no one indicates that they want to speak, the public hearing can be closed quickly. So, please indicate immediately that you have something to say when the public hearing is opened. Otherwise, you may miss your chance.
Other Planning and Zoning Matters
15. Consideration of Rezone. Proposal for 53 for-sale townhomes on 5.27 acres, North of 135th St and West of Bent Grass Lane.
First Reading, this is the first consideration of the matter but not final vote.
16. Update to 2040 Comprehensive Plan.
First Reading, this is the first consideration of the matter but not final vote.
Unfinished/New Business.
Community Comment. All comments submitted through the online are supposed to be provided to the city council members before the meeting and become a part of the meeting's official record. The Public Comment Form is live on the website right now. Select "City Council Meeting" and that will open a comment box for you to type in. Submit your comments by noon on Monday, the day of the meeting, so they can be distributed before the meeting.
Meeting adjourned!
If you have any comments or questions, please send them my way. Email is a good way to get a hold of me.
Thank you for reading all of this. 🙂